Congratulations on your engagement. Here at Frederick's we hope to help make your special day the perfect celebration...

Telephone +44 (0)20 7359 3902 Email getmarried@fredericks.co.uk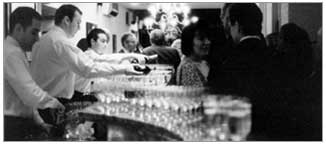 The procedure to get married is relatively easy. It goes as follows:

Come in and see us, or telephone us, to make a provisional booking. We can hold up to 45 guests in the Clarence Room, and around 120 guest in the restaurant. We are also open on Sundays, but only for private parties.

Next you must contact the Superintendent Registrar at Islington Town Hall.
You need to go down to their office in Islington, address is:

Islington Town Hall, Upper Street, Islington, London, N1 2UU
Tel: 020 7527 6347 / 0207 527 6350

The office is open between 9.30am to 12.30pm and 2pm and 4pm.

They would prefer to be contacted as early in the day as possible. You can, in the first instance, telephone or fax them, to provisional fix a date, but you MUST contact them personally and you will have to go in for a meeting to discuss the marriage details, before they will confirm the booking.

Generally they would require notice of three months, although you can make a provisional booking for up to a year before. You can, however, also get married very quickly - but this will cost a little extra. If you do not live in Islington then see the registrars to book the wedding, but you MUST give notice in YOUR DISTRICT OF RESIDENCE.

You will have to pay a notice fee, this assumes the couple both live in Islington. If one lives outside the borough, then an additional fee is payable. If you are marrying within 22 days of the notice (or, do not want your name to be published), then there is a further fee for the licence.

To get married at Frederick's you will need a Superintendent Registrar and a Registrar of Marriages to attend. Their fee covers the attendance of both Registration officers, the registration of your marriage and the issue of one marriage certificate after the Ceremony. They would require the fee to be paid at least 10 days in advance, either by cash or cheque, made payable to the London Borough of Islington. Please contact the registrars directly for current fees.

Your marriage ceremony can take place in either the Clarence Room or in the restaurant.

The Clarence Room, a private room on our first floor will hold up to 45 guests, with the restaurant holding around 120 guests.

Before the ceremony, we will have the Sussex Room, another private room, available for you, where you will meet the Superintendent Registrar in private. Your guests can either wait at the bar or be seated in the area where the ceremony will take place.

No food or drink may be sold or consumed in the room in which a ceremony takes place for 1 hour PRIOR to that ceremony or during the ceremony.

If you are having a lunch or dinner celebration in the Clarence Room afterwards, we will prepare the room for the meal, while your guests have drinks served in the Garden (weather permitting), the Sussex Room or at the bar.

For ceremonies taking place in the restaurant you will have the whole restaurant at your disposal. We can seat up 120 guests or hold up to 250 if you are having a cocktail party. We could offer the Garden Room only if you required a lunch or dinner celebration for around 70 guests.

We will charge you £300 (including VAT) to have a marriage take place at Frederick's.

Depending on your number of guests you may be able to hire the entire restaurant, in which case there may be a hire fee applicable.

We will open on Sundays for private parties, with a minimum number of 80 guests.

You MUST ensure that the authority for your marriage (the blue certificate or licence) issued by the Superintendent Registrar for your (residential) district is delivered to Finsbury Town Hall well in advance of your wedding day.
THE MARRIAGE CANNOT GO AHEAD WITHOUT THIS AUTHORITY.

Attached are the declaratory words used during the ceremony. However, if you wish to add anything, please discuss this with the registrars, who are willing to consider anything (!)

There is a music system in the Clarence room & Main Restaurant (CD) it is possible depending on numbers of guests attending, to have a small quartet playing during the ceremony.

No flash photography should be used during the ceremony, but can be used afterwards in the room and in any other parts of the restaurant you would like, including the garden. You can have a video, but no extra lights.

I do solemnly declare that I know not of any lawful impediment why 1,
AB, may not be joined in matrimony to CD

OR

I declare that I know of no legal reason why I,
AB, may not be joined in marriage to, CD

OR

by replying "I am" to the question:
'Are you, AB, free lawfully to marry CD?"
I call upon these persons here present to witness that I, AB, do take thee, CD, to be my lawful wedded wife (or husband)

OR

I, AB, take you CD, to be my wedded wife (or husband)

OR

I, AB, take thee CD, to be my wedded wife (or husband)